6 Ways To Improve Your Property's Interior Structural Style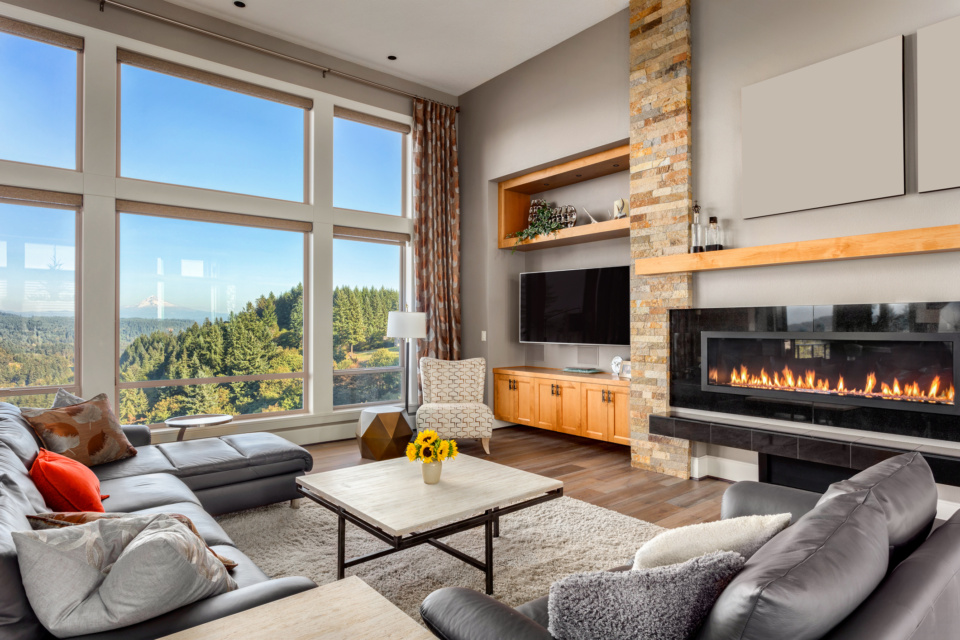 Curb appeal is important, yet your property's value also relies upon the comfort and style that is provided by your interior structural design. Although a fresh coat of paint always spruces up a room, going a step further will increase the overall impact of your design scheme. As you begin to prepare your plans for a remodel, consider making these five changes that dramatically alter the appearance of your indoor living space.
Add a Granite Countertop
Homeowners frequently overlook the difference that even a minor change can make. Granite is preferred in kitchens and bathrooms due to its durability and resistance to wear and tear. Yet, it also creates a dramatic visual effect, even when it is used in small areas. If you like the look of granite but are concerned about the cost, then try updating the countertops in your bathroom since those tend to require less square footage. Since the room is smaller, this small investment will make a bigger difference in giving your home a luxury feel.
Expand a Room
The current style trend today emphasizes open floor plans that create a feeling of space without being overwhelming. In older buildings, there are often interior walls that serve no purpose other than to separate space into smaller rooms. Knocking out these walls will give you more room for entertaining, and they create that luxurious feeling of a larger home. For example, you can remove a wall that separates your living area from a smaller sitting room so that you have double the space when guests visit. Before planning a room expansion, however, make sure to have a professional inspect your home's building plans to ensure that knocking out a wall will not interfere with electrical wiring, plumbing or structural support.
Update Your Kitchen
In every home, the kitchen is a gathering place for a family that involves spending time together creating nourishing meals and talking about the day. Since this room serves as a hub, making sure it is both efficient and comfortable is essential for improving your home's value. Similar to the bathroom, you can incorporate small changes to dramatically alter the entire space. For example, adding a kitchen island can make a larger kitchen feel cozier while giving you more work space. Or, adding a wood window that is customized to match the rest of the room over the kitchen sink will make the room feel more open while giving a gorgeous view to the outdoors while someone does their kitchen chores. A new tile backsplash, luxury flooring and ceiling fan are a few more small alterations that completely change the appeal of the kitchen.
Install New Doors
Interior doors are a huge part of a home's structural design that tend to either blend in or stand out. While most people rarely think of changing their doors, this is one way to quickly transform the look of the entire house. For example, sliding glass doors are ideal for patios that overlook garden areas or swimming pools. Since they require no swing space, you can enjoy having a beautiful view of your outdoor space without interfering with the openness of your home's interior. If you want to join to rooms in your home but prefer not to knock out entire walls, then you can use French in-swing doors to generate that same feeling of open space. Your entry door, closet and bathroom doors can also be updated to create a completely different look within minutes of installation. While interior doors are made to last for many years with proper care, this is one home remodeling project that can be achieved with minimal downtime for your living space. Depending upon the size of your project, your doors can be installed within minutes to hours, which makes this ideal for anyone who is looking for instant gratification regarding their home's aesthetic appeal.
Focus on Universal Design
In many families today, multigenerational living offers financial and logistic benefits for meeting everyone's needs. However, this sometimes requires some modifications to you living area to ensure that every part of your home is accessible to people with varying abilities. For this reason, adding features such as walk-in showers allows everyone to use essential rooms without detracting from the aesthetic beauty. Sliding doors make it easier for people with limited mobility to move in and out of rooms with ease, and dropped door rails allow wheelchair access. Lowered countertops and waist-high cabinets are a few more structural design changes that incorporate the needs of everyone who may visit or live in your home.
Get a Fresh Look with Windows
Outdated windows are not just visual eyesores. They also bring down your home's energy efficiency and lead to hotter living areas. Updating your windows is also an ideal way to improve both the interior and exterior structural style of your house since they are visible from both sides. For many homes, vinyl windows are ideal since they are virtually maintenance-free and fit well into both contemporary and traditional style schemes. For those who prefer more options for customization, wood windows provide the opportunity to choose from different types of wood and shapes to create a unique effect that fits the home's style. This makes it ideal for both modern homes and historic buildings.
When it comes to remodeling your property's interior structural style, you can go big with a major change such as knocking out a wall or choose smaller changes that slowly add up to a big alteration. As you plan your project, keep in mind that some improvements can be done in phases. For example, you could start by replacing a few interior doors within your home or choose to only do the front-side windows. Then, you can increase your changes over time until the entire property has been completed. By looking for multiple options for altering your home's structural style, you can increase the value and your enjoyment of your biggest investment.