Your Source for Orange County Replacement Doors & Replacement Windows
When it comes to Orange County windows and doors, we can help our customers create the perfect design to complement their home.
Legendary Doors & Windows is known throughout Southern California as the place to go when you are in search of high quality replacement windows that not only meet your expectations but exceed them as well. We believe in providing our customers with premium products, unbeatable low prices, and award-winning customer service. We even offer cash benefits on qualifying purchases of our products.
At Legendary Doors & Windows, we strive to carry a large selection of vinyl windows, aluminum windows, wood windows and fiberglass windows. Our friendly staff provides free consultations and will provide certified recommendations and suggestions to meet the wants and needs of our customers. Making customers happy is our top priority so you can always trust in our staff to help you make the best decisions for you and your space
Find the Perfect Vinyl Window for Your Home
As one of the most popular types of windows, vinyl windows offer a superior level of energy efficiency and durability. Additionally, vinyl windows are traditionally known for being virtually maintenance free, requiring only a simple cleaning to help keep them looking like new. At Legendary Doors & Windows, we are proud to carry a huge array of incredibly high quality vinyl windows available in a variety of styles. For more information on our products and to get a project bid for your vinyl window installation, don't hesitate to get in touch with one of our highly knowledgeable and certified staff members today.
Find a Beautiful Aluminum Window for Your Home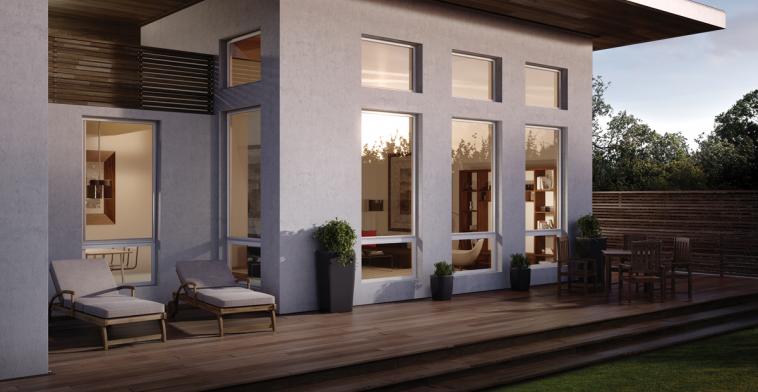 For strength and a long lasting lifespan, aluminum windows have widely been selected for their rigidity, durability and narrow frames. Additionally, aluminum windows can be easily built to accommodate a variety of styles, shapes and operations to help optimize views and enhance the beauty of your home. As a frequent choice among warmer climates, aluminum windows are an ideal choice in projects ranging from entry-level homes and multi-family units to high-end custom homes. For more information on our aluminum window installation services, please get in touch with a member of our highly knowledgeable and certified window experts.
Milgard Aluminum Frame Colors
Milgard aluminum windows come in four beautiful frame colors to coordinate with your home design. Choose a clean, white finish or opt for a darker frame to emphasize the window shape.
Add Traditional Charm with a Beautiful Wood Window
Wood windows offer a beautiful sense of hand craftsmanship and detail to any home. With the ability for customization through paint, staining or sealed to enhance the natural beauty of the wood grain, wood windows are strong, easy to work with and provide a natural level of insulation. Since wood windows naturally compliment a variety of homes from traditional styles to more historic styles, Legendary Doors & Windows is proud to offer them in many shapes, grid patterns, and types of wood all made to your exact specifications. For more information on our wood window installation services, please get in touch with a member of our expert staff today
Advantages of Wood Frames:
– Warmth of solid wood grains
– Paintable
– Excellent insulating properties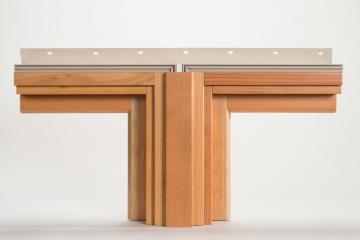 Innovative Engineering
Essence Series windows use a newly engineered mulling system that more securely connects multiple units, creating a tight seal and protecting against air and water infiltration. The systems also allows for windows in combinations.
Essence Series windows exceed industry residential standards for air and water filtration and forced entry, protecting your home against the elements and helping keep your family safe.
Certified Fiberglass Window Installation Experts
Known for its strength, durability and naturally insulating qualities, fiberglass windows have been a popular choice among window contractors. Windows designed from fiberglass are known to be 3x more energy efficient and 8x stronger than windows made from other materials. Since fiberglass windows are available in a wide variety of colors and styles to choose, they have become an ideal choice for home installations. At Legendary Doors & Windows we strive to carry a large selection of fiberglass window styles and designs to suit the needs of any project. For more information on our products and services, get in touch with a knowledgeable and professional member of our staff today.
The dimensional stability of Ultra™ Series fiberglass windows make it a popular choice for high humidity and high heat environments, such as bathrooms and kitchens. A WoodClad™ Series option offers you the beautiful look of wood veneer on the interior without the need for sanding and repainting.
Milgard Ultra™ & WoodClad™ Series fiberglass window frames come in a palette of rich, designer colors. From warm 'harmony' to bold 'black bean', get inspired with all the possibilities.
Add warmth with a Clear Vertical Grain Douglas Fir veneer option on WoodClad™ Series windows.